Flow in Emotions at ACTA, Oradea, Romania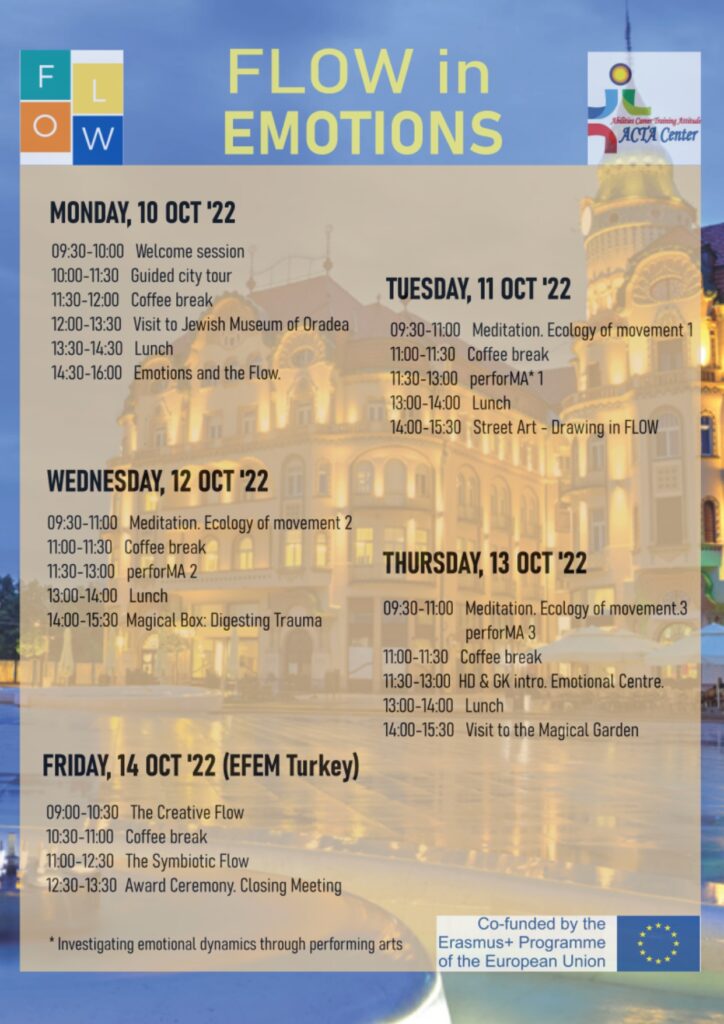 FLOW IN EMOTIONS ORADEA, ROMANIA
This week has provided us with an opportunity to familiarize ourselves with how emotions affect us in different ways and how we can work with them in order to be happier and more proactive in our personal and professional life. Our hosts, Mihaela Popovici and Răzvan Marchiș, from ACTA Center, welcomed us in the vibrant city of Oradea where we participated in activities such as street art design, meditation sessions and theoretical talks about the topic of "emotions".
MONDAY 10th, OCT. '22
Today, Răzvan presents us with a theoretical framework about what emotions are and how they affect us. He describes how we can split emotions into two categories: positive and negative emotions and how the best scenario is to be able to accept and embrace both types of emotions in our lives. We participate in different activities such as thinking of different words that are typically associated with positive emotions (happiness, joy, …) and negative emotions (anger, anxiety, …) and we discuss what the main differences between feelings and emotions are.
TUESDAY 11th, OCT. '22
As our host, Răzvan, points out, "Fun is the beginning of flow". Today, we discuss how thinking about something positive or negative can provoke changes in our system and how feelings may get in the way of our performance so we try to push them away. There is a viewing of the following video where this can be better understood:
We converse about how to go from a state of anxiety or alert to a calm state and the concept of "breathing" is introduced. We learn and practice different breathing techniques that are meant to be helpful when in a state of agitation so we can calm ourselves down and be able to think and act more rationally. The figure of Alejandro Jodorowsky is introduced in relation to his documentary Psychomagic, a Healing Art, and how we can learn to identify the root of a trauma and reenact it with a different outcome.
We finish the training of the day by joining Roxana Stan, a street artist from Oradea, who shows us her work on the pavement in a famous park in Oradea and explains to us how art can help us let go of our emotions and thoughts, providing us an opportunity to express ourselves in a more visual way. All the members in the mobility draw a mandala together on one of the pavements of such a park, in which we capture the moment of being there, referencing the idea of FLOW and connecting it to our backgrounds and institutions back home.
WEDNESDAY 12th, OCT. '22
On the third day of our mobility, we focus on how our bodies can be in a relaxed or agitated way and the connection of different emotions with these two different states. Yoga instructor, Maya Kovacs, leads a session on how to use yoga techniques in order to relax our bodies and mind. We work on training our minds to be able to concentrate on specific aspects so we can be in total control of our thoughts and emotions. We finish the day with a tour of the city center organized by ACTA Center where we get to know this city, its citizens, culture and history a bit better.
THURSDAY 13th, OCT. '22
We continue practicing in yoga, meditation and breathing exercises that help us better understand how our body works: vocal chords, feet, chest, etc. We do exercises and games that involve movement and dancing as well. Some of the activities carried out are in connection with Claude Coldy's Sentitive Dance. As it is pointed out on his website, "Sensitive Dance® is a somatic practice which aims to increase self-awareness, awareness of one's body, perceptions and emotions through conscious movement." This session is dedicated, then, to group dynamics aimed at learning and working with this way of approaching the management of emotions.
FRIDAY 14th, OCT. '22
We are in our last day of training where we wrap up our lessons and reflect on what we have learned these days and how we can incorporate that knowledge into our daily activities both outside and inside of our professional lives. We summarize the main concepts dealt with in this training and we proceed to present the certificates to the different participants in the mobility. We finish this workshop on the incorporation of breathing, meditation, body movement and art into the flow of emotions.