FLOW IN EDUCATION & TECHNOLOGY & FLOW TOGETHER I, SAN ROQUE, SPAIN, JANUARY 23TH-27TH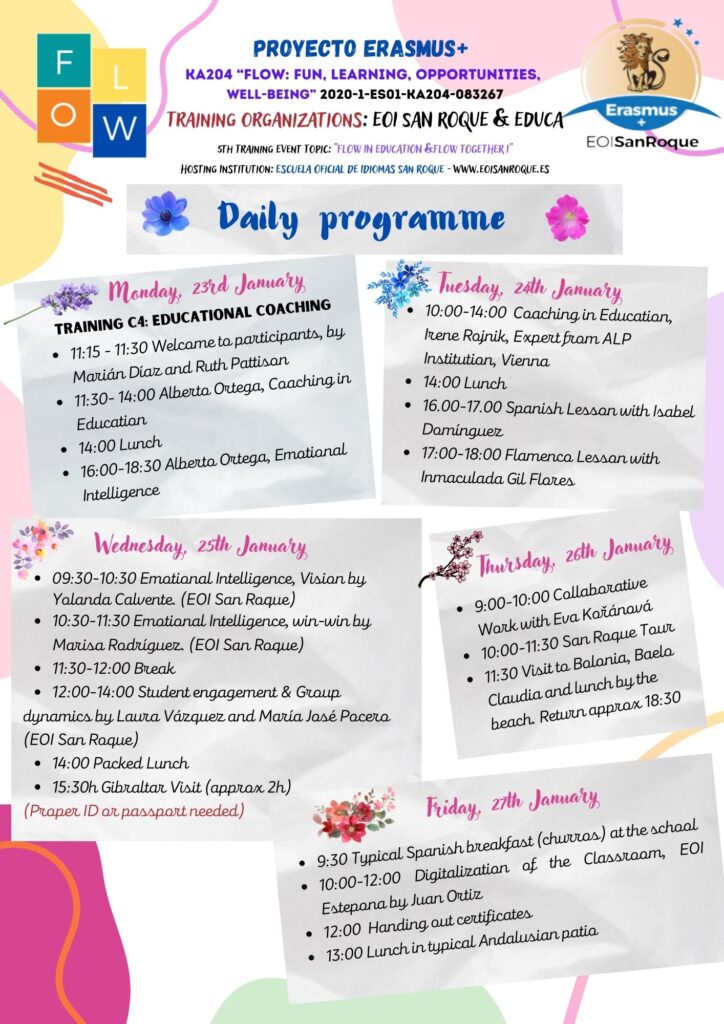 The EOI San Roque (Escuela Oficial de Idiomas San Roque, "Official Language School San Roque") welcomed the project's participants to this workshop that revolved around educational coaching and emotional intelligence, with training provided by renowned experts in these fields as well as staff from the EOI San Roque and two of our partners, EDUCA and EOI Estepona.
This was a week packed with training sessions and leisure activities. The EOI San Roque invited experts on the field of coaching who talked about the importance of implementing coaching principles and techniques in our classrooms. The staff at the school also offered a plethora of classroom activities conceived to help with the implementation of emotional intelligence and coaching in our lessons. Staff from our partner organisation, EDUCA, led a session on peer observation, used as a way for teachers to provide and receive helpful feedback and, finally, the EOI Estepona was in charge of providing a wide range of digital tools which can help us make our classes more engaging, participative and motivating.
Diseño de Isabel Domínguez Ramos
MONDAY 23rd
The day started with welcome remarks by Marián Díaz López, Director of the San Roque Official Language School. The participants to the training were also welcomed by Belén Jiménez, the delegate of Education at the San Roque City Hall.
Then, we started with the first talk in the workshop. This talk was given by Alberto Ortega Cámara, an expert on personal and educational coaching, with a long career both in teaching and coaching. Among many other projects, he is the author of the book Vivir en Inteligencia Emocional ("Living in Emotional Intelligence", our own translation) and has developed a program called Programa de Implantación de la Inteligencia Emocional ("Program of implementation of Emotional Intelligence", our own translation) in educational contexts.
In a daylong workshop, Alberto touched on topics related to school emotional education development, delving, mainly, into the concepts of "vision" vs. "feeling", "emotion" vs. "feeling", "interpretation" vs. "fact" and "responsible" vs "victim" vs. "guilty". As a snapshot of what Alberto explained in terms of applying coaching principles to our interactions, he mentioned working on achieving 80% listening vs. 20 % speaking, using questions, providing self-learning contexts, accepting that mistakes are valuable, working with agreements vs. rules, etc.
Through an entertaining talk in which Alberto combined theoretical information with personal anecdotes and hands-on tasks, we learned and discussed the above topics and their possible implications in an educational setting, as well as in our personal lives.
TUESDAY 24th
On Tuesday morning, another expert in the fields of coaching and leadership, Irene Rojnik, from Activating Leadership Potential (more info @ www.alp-network.org) led the workshop. As it is mentioned on her institution's website, Irene is a "systemic coach, trainer, facilitator and consultant". At this moment, she is specializing in inclusive leadership and emotional intelligence. With her, we learned about the importance of asking powerful questions (simple and clear, focus on the need in the specific moment, etc.) and the difficulties of doing this. We do not always ask the right or best possible questions in a coaching process. The notions of "rephasing" and "listening" within a coaching experience were also worked on (4 levels of listening and dialogue, etc.). This was another way of approaching the activity of coaching, adding new information to the one received the previous day from Alberto Ortega. 
The evening started with a Spanish lesson provided by Isabel Domínguez, Spanish teacher at the school. In this lesson, participants learned some basic phrases in Spanish such as "¿cómo te llamas?" ("what's your name?"), "me llamo…" ("my name is…"), "buenos días" ("good morning"), "soy de …" ("I'm from…"), etc. Through several practical and entertaining activities, workshop participants put into practice this useful "survival" vocabulary aimed at providing some basic knowledge of the language in order to be able to carry out some basic interactions with the locals. 
This Spanish lesson was followed by a flamenco show presented by a talented young woman, Inmaculada Gil Flores. This young performer, being only 14 years old, has already participated in different national and international shows as well as competitions, such as Little Big Shot in England and Australia. Recently, she has received a very prestigious award in the field of Flamenco in the recently celebrated III Concurso Internacional de Jóvenes Talentos EFA, Premios Begoña Cervera 2022, 4 Festival Internacional Flamenco Ciudad de Jaén ("III Young Talents EFA International Contest , Begoña Cervera 2022 Awards, 4th International Festival Flamenco City of Jaen", our translation)
If you would like to enjoy her performance in that contest, here is a video where you can enjoy her mastery of the flamenco dance (video recorded by Escuela de Flamenco de Andalucía (EFA):  
Inmaculada performed a couple of dances for all the participants which were followed by a flamenco lesson led by herself and with the help of Ana Flores, teacher at the EOI Estepona, and proud aunt of the performer. The day started with a workshop led by someone from Austria and finished with Spanish and flamenco lessons. There could not have been a better closure for the day, which was impregnated by one of the main benefits of participating in Erasmus + projects: learning and sharing within an European dimension.
WEDNESDAY 25th
The morning started with the talk "Emotional intelligence, Vision" by Yolanda Calvente. Yolanda is a teacher at the EOI San Roque where she puts into practice the notions and activities she taught us. She told us how we can use coaching in order to help students achieve their goals: making them feel part of a group, surprising them, creating bonds among them, … One of the main points of the talk was the notion of "vision". Here "vision" is synonym of "objective". What is that you want in life? In this case, we can work with the idea of having a vision to make students set some learning goals as their "vision" and work with that idea of having a vision throughout the learning process. Yolanda also taught us different ways in which we can get closer "emotionally" to our students: using questionnaires to get more information about them that you later on use in class to make your classes more interesting for them, using class souvenirs (you give them a bookmark or cards with their mottos, etc.) and creating nice sceneries in the classroom to promote a feeling of well-being. 
The morning continued with the talk "Emotional intelligence, Win-Win" by Marisa Rodríguez, also staff at the EOI San Roque. Marisa taught us different group dynamics that allow us to engage our students in motivating activities which make students stand up, leave their chairs and move around the classroom. Through the use of songs, games and dynamics that imply movement and surprising elements, Marisa tried to show us the importance of making students move and making them as participative and physically engaged as possible in lessons. This is a motivating factor which helps to improve motivation and stronger bonds among students.
The last part of this training session was "Student engagement & Group Dynamics" by María José Pocero & Laura Vázquez. Both teachers at the EOI San Roque provided us with a range of activities to be used with students in order to promote group work. Again, these activities were examples of tasks that make students work together and collaborate in order to achieve a common goal. The idea is moving the student away from working by themselves to working with other people. We learned about activities in which students need to order different information in groups, act as puppeteers, etc. All of them aimed at engaging the students in the classes' activities.
THURSDAY 26th
This day started with a session on Collaborative work, provided by Eva Kořánová, Klára Hewitt and Andrea Vlachovská from EDUCA. They talked about the idea of using peer observation as a way to provide and receive useful feedback on our performance when teaching a class. After some discussion about different types of peer observation that can be used and ways to proceed, we participated in an activity in which we deepened our understanding of what peer observation implies. We saw a video in which someone was teaching a class and had to write down and, later on, comment on this person's performance. This activity helped us immerse ourselves in a process of peer observation.
After this part of the training, the day continued with a guided tour through the historic centre of San Roque and some of its main landmarks. Carlos Jordan, staff at the San Roque Tourist Office, was in charge of this tour. We started with a visit to the Bullring which was followed by a visit to the San Roque Museum. There, we could appreciate a collection of pieces from the Carteia Site, the first Latin colony outside of Italy from 171 B.C. Finally, Carlos guided us through the Governor's Palace where we could visit the Luis Ortega Brú Museum, dedicated to the works of this famous sculptor native to San Roque. Here, we also had a chance to visit the Plenary Hall and walk to the top of the building from where we could enjoy the impressive views of the Campo de Gibraltar area.
ur first stop of the afternoon was in the town of Tarifa, around 40 minutes by car from San Roque. We went there bordering the coast and enjoying the beautiful views of the Mediterranean Sea. In Tarifa, we visited the fish market with its fresh fish typical from the area. We also saw the Castle of Tarifa, known as well as Castle of Guzmán el Bueno ("Guzman the Good"). It is said that Guzmán el Bueno was in charge of protecting the castle and he refused to hand it over to the forces of Spanish King Sancho IV's brother, who was trying to capture it. He even refused to abandon the castle in exchange for the life of his son. One of the places which caused more enthusiasm was the area where the Mediterranean Sea and the Atlantic Ocean meet. This meeting point of the sea and the ocean has a very peculiar charm. At lunchtime, we enjoyed a typical stew with Spanish oyster thistle and other typical dishes. Perfect to recharge our batteries and continue to our next stop.
The afternoon continued with another cultural visit. This time, we visited the Archaeological Site Baelo Claudia, near the village of Bolonia, around 22 kilometers to the Northeast of the town of Tarifa. This place, as mentioned on their website, is "one of the best examples of roman urbanism" and its origin can be traced back to the second century B.C.. We enjoyed the exposition at the Visitor's Centre & Museum, where visitors can see funeral inscriptions, sculptures, amphoras, etc. from the time and learn about the production of garum, a sauce made of fermented fish which was very popular at that time in the area. Next, we walked through the remains of this city and had the opportunity to step on the ancient stones of a place where so many previous generations have passed. 
After visiting the site, we walked by the beach in Bolonia and through the white sand dunes that little by little are taking the space of the pine forest nearby. We also had the chance to visit Valdevaqueros Beach, one of the top places in Europe (and worldwide) to practice Windsurfing and Kitesurfing. 
FRIDAY 27th
We reached our last day in the mobility. The EOI San Roque received the visit of different authorities in the field of education in the area: Isabel Paredes, the territorial delegate of Educational Development and Vocational Training and University, Research and Innovation of the regional government, Junta de Andalucia, in the province of Cadiz; Francisco Javier Rodríguez, the Sub-delegate of the regional government in the Campo de Gibraltar area; Belén Jiménez, the delegate of Education at the San Roque City Hall; and the representative of the Inspection Service in the area, María Perseverancia Haut. They held a meeting with the management team at the school and, later on, Isabel Paredes, Francisco Javier Rodríguez and María Perseverancia Haut greeted the participants at the workshop, offering their support towards this type of initiatives and involvement in Erasmus + projects and congratulating the EOI San Roque for their profound implication and success in this respect. 
https://www.europapress.es/andalucia/educacion-00651/noticia-escuela-oficial-idiomas-san-roque-cadiz-convierte-centro-referencia-nacional-educacion-adultos-20230127164231.html
Today we had a technology workshop with Juan Ortiz Cantos, teacher at EOI Estepona. The main objective of this workshop was to introduce the attendees to the wide variety of tools that exist and that we have at our disposal to teach, learn, communicate and collaborate making it possible to digitilize the classroom and create an attractive working environment for both the student and the teacher.
Emphasis was placed on how to use these tools provided by the Internet in a productive and efficient way.
–
We all did a collaborative activity and the result was that each organization created one in their own language using learning apps.
After the EOI Estepona's workshop, Marián Díaz López, on behalf of the EOI San Roque, proceeded to award the training certificates to the participants in the workshop and its closure. The award ceremony was followed by a lunch in which typical Spanish dishes were served and, under the sun of the South of Spain, we said goodbye. 
This has been another opportunity for learning and sharing in which, one more time, both organizers and participants have shown their enthusiasm and good disposition. The end of the project is approaching but the learning acquired, the good practices and the professional and personal experiences lived in these training events will last long.