During 4th, 5th and 6th of November all partners held the kick-off meeting in Antalya (Turkey). This event was organized by Efem Akdeniz, our Turkish partner. Everybody was excited as it was the first time we've met in person.
4th November 2021
Host institution presentation
Efem Akdeniz welcomed all partnerships and prepared a stunning meeting room to attend the upcoming working sessions in Liberty Lara hotel.
Coordinator Meeting : Management Plan
Project coordinator, Director Marian Diaz Lopez of EOI San Roque welcomes all the participants and introduces Prof. Alejandro de la Riva of EOI San Roque who presents the meeting's first topic.
MOBILITY MANAGEMENT: What are the possibilities?
Organizing mobilities.
Each visiting partner receives the funds and organizes their own accommodations and restaurants.
Other options: Reaching a consensus. (Use systemic consensus system to agree if needed)
Training Activities and events: What and how are we going to do things?

Sharing and experimenting activity examples of what we do.
Hiring an expert on the matter with our management grant: Can we invite/ hire/ an expert on our subject matter? (Example: Educational coaching; Theatre applied to teaching; Creativity; …)

Program calendar: Do we agree on  the initially suggested planning?
Breathing Techniques and Art Works
Antalya State Opera and Ballet opera singer Gizem Şener gave voice and breathing techniques. In this seminar, participants took a breath test and measured whether they were breathing correctly. In addition, information was given on topics such as correct breathing techniques and how to calm down under stress. Later, she performed a mini opera accompanied by piano in the lobby of the hotel.
Visiting the ancient city of Aspendos and Perge
In the afternoon we had the pleasure and opportunity to visit and explore the ancient cities of Aspendos and Perge.
5th November 2021
Coordinator Meeting: DISSEMINATION PLAN
The day starts wrapping up a few things related with the previous meeting and the next matter is introduced.
Dissemination Plan: How are we going to organize publications on web/ social media?
Managing messages.

Newsletters; adjusted formats for media; How to write an excellent and brief review, How to take a media oriented picture,
Evidence registration: Link page
One English message, that can be translated for partner webs
Who is in charge of what?

Guide and tool box.

What is a guide? What does it include?
What is a Tool box? What does it show?
How do we want to display these resources? Video teaching unit? Paper/Digital presentation teaching unit?
Ebru Art Works and Rhythm Tecniques
Ebru was inscribed in 2014 on the Representative List of the Intangible Cultural Heritage of Humanity
Source: www.unesco.org
Visiting Kaleici and Efem's institution
On the 2nd day we went to Efem's institution and learned about their projects. After that, we visited the wonderful old town.
6th November 2021
Coordinator Meeting: Assessment Plan
Assessment Plan (Evaluation tools and register) Reviewing what and how we are evaluating our project.

Using the Impact table
 Questionnaires and other online resources
Specific beginning, middle and final questionnaires
Folk dance and music activities
Hüseyin Kemerden, a member of the Efem Akdeniz GSK. Association, performed folk dances and presented examples of the countries' dances.
Final Coordinator Meeting: Conclusions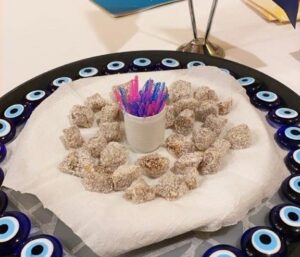 Both the working sessions and cultural events not only added colour to the project, but also enabled the participants to get to know each other.
All partners heartedly thanked Rahmi and Necla Turan( Efem Akdeniz GSK.Association), for this amazing organization.